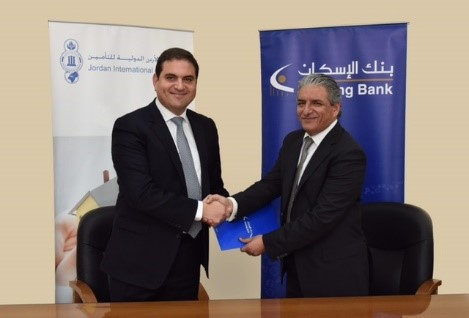 Housing Bank signed a cooperation agreement with Jordan International Insurance Company that will see the launch of (Protecting My Home) – a new bancassurance home insurance product within the general insurance branches. This comes as part of HBTF's strategy to offer its clients added value financial services that are easy to buy and that come with a level of customer service.
(Protecting My Home) will be marketed and made available to Housing Bank customers through the bank's direct channels (Call Center, SMS, etc.) and some selected branches; enabling customers to quickly and easily buy insurance coverage against many natural and non-natural hazards. This includes fire, lightning, theft, storms, hurricanes, strikes, and unrest; and covers building and content – in addition to legal responsibility towards owners /neighbors and civic responsibility towards visitors and many other features.
(Protecting My Home) is offered to current customers and prospective landlords whether owners or tenants in comfortable annual installments. Additionally, bank clients are able to easily purchase policies directly through the call center – without the need to visit branches.
At the signing ceremony, Mr. Ayman Abdullah Assistant GM of Retail Banking said (We appreciate our partnership with the Jordan International Insurance Company as one of the leading bancassurance providers, enabling us to extend to our customers quality services. This is in line with our commitment to meet the aspirations and expectations of our customers through choosing quality partners… (- adding that HBTF always seeks to forge strategic partnerships with vital sectors in Jordan -such as the insurance sector - to provide innovative services that match today's global standards.)
For his part, Mr. Faris Gammoh, General Manager of Jordan International Insurance, stressed the importance of this signing adding: (We appreciate the partnership that we share with Housing Bank which serves the largest customer base in Jordan, through this partnership the HBTF customer will have access to the best insurance services and the most advanced on the local market; benefiting from JIIG's experience in the industry and a level of service which was awarded (Jordan Insurer) for 2015 by MENA Insurance Review magazine.)