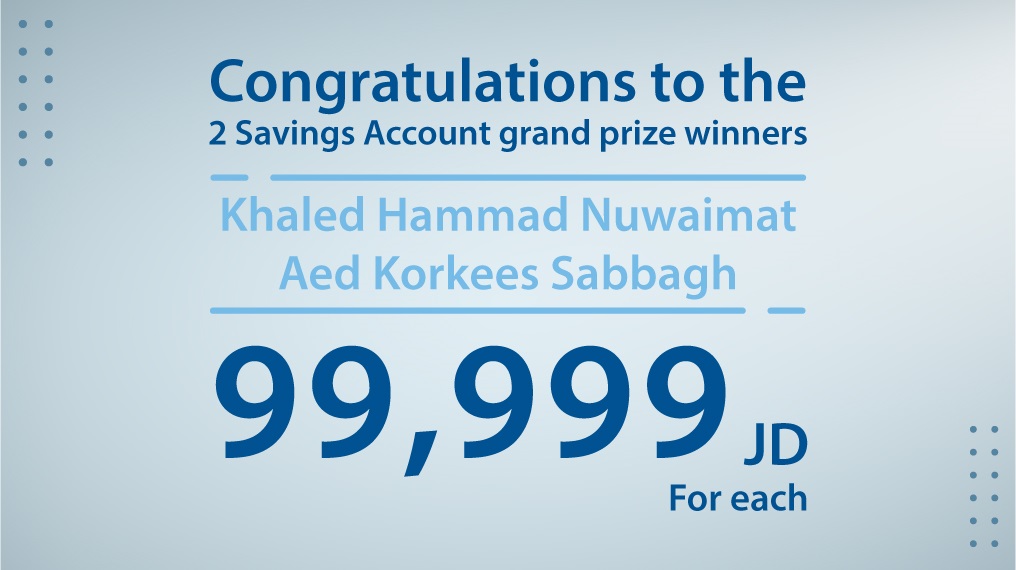 The Housing Bank- the most widespread bank in Jordan- announced the end of year savings account prizes for 2021, each worth JD 99,999. The prizes were won by Ayed Sabbagh at the Gardens branch and Khaled Naimat from the Bayader branch.
The 2021 savings account goes in line with the Housing Bank policy aiming to encourage its clients to adopt incentive saving programs and to open savings accounts by increasing their chances of winning daily, monthly, semi-annual, and annual prizes.
The Housing Bank's annual promotional campaign for savings accounts launched in 2021, received a remarkable turnout from the bank's current and new customers. The campaign enabled eligible clients with saving accounts over JD 100 to participate in the prizes and enter different categories of the draw. The categories are distributed as follows: 5 daily prizes, each worth 999 dinars, 5 monthly prizes each worth 9,999 dinars, in addition to two prizes in the middle of the year, each worth 99,999 dinars, and two prizes at the end of the year, each worth 99,999 dinars.
To promote a savings culture, the Housing Bank offers many innovative products, including the free (Easy Tawfeer) service, an easy automated savings solution, one of the innovative savings solutions offered by the Housing Bank to its customers, with the aim of enhancing the savings experience automatically by deducting part of their personal payments when carrying out purchases on Debit Cards at points of sale.
The Housing Bank is the first Jordanian bank to implement the savings account prize system since 1977. This reflects its leadership and interest in its clients who hold savings accounts and its desire to encourage them to save and promote this positive culture. These prizes are considered an appreciation method from the bank towards its saving account clients, who chose it to be their first and preferred bank and put their trust in it, due to the comprehensive and distinctive banking services it delivers to them.