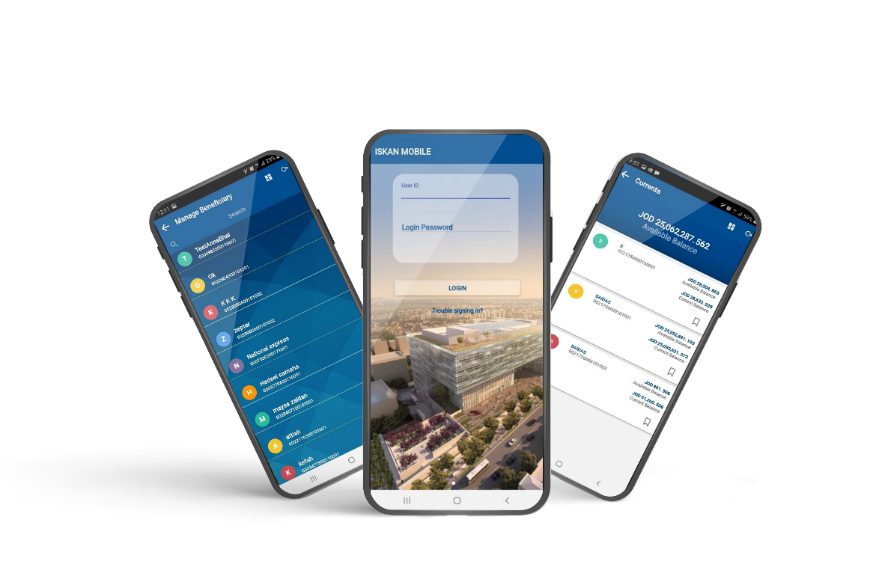 The Housing Bank, the largest and most widespread bank in the Kingdom, announced the redesign and relaunch of its Iskan Mobile app, a move that is directly in line with its strategy to achieve digital transformation and consistently provide its clients with innovative digital services that reinforce efficiency and facilitate their business dealings. The app offers smartphone users on all operating systems with an easy, fast, safe, and advanced banking experience.
 The new Iskan Mobile app has been redesigned to be fully integrated with smartphones, providing an advanced banking dimension that caters to all the different needs of the bank's clients using the latest, most cutting-edge technologies through an advanced and flexible interface that is highly adaptable to future upgrades and additional future services. Iskan Mobile allows customers to access their accounts at their convenience, carrying out their banking transactions easily, safely and efficiently at any time.
 By downloading Iskan Mobile, customers can enjoy an easy-to-use and flexible interface and an integrated banking experience, with the ability to log in to the app using a biometric fingerprint. The app also gives customers access to a new and exclusive group of banking services, which include opening subsidiary accounts online, inter-account cash transfer services, local and foreign transfers, fast sending and receiving transfers exclusively through Western Union, submitting loan and credit card applications, paying a number of bills simultaneously, storing and sending receipts of financial transactions, in addition to online account statements.
Features also include an upgraded experience in basic banking services, with the ability to browse bank services, monitor balances and details of transactions on the account, periodic settlement of bills, settle bills using eFawateercom, access the JoMoPay service, credit card enquiries and payments, check services, SMS services, report stolen or missing cards, branch and ATM locations, as well as a host of other services.
 At the launch, Housing Bank CEO Ammar Al-Safadi said, (We have recently witnessed a noticeable escalation in the volume of online banking operations as a result of Internet proliferation and the advancement of the smartphone market, together with customers' demand for efficient and quick banking experiences that are in line with the pace of their modern lifestyles. When preparing its annual strategy, which is based on offering clients the most up-to-date technological developments in the international banking market, Housing Bank took all these considerations into account in order to continue providing the highest levels of services.)
 Al-Safadi went on to add, (Redesigning and relaunching Iskan Mobile is also in line with the bank's digital transformation strategy, as well as its commitment to consistently provide the most innovative digital services to its customers.), Safadi noted that the new app provides an innovative banking platform that ensures effective and safe interactions between customers and the bank. He also added that the bank provides financial services and the most advanced solutions on par with international best practices.
 The original version of Iskan Mobile will remain operational until June 30, 2020, after which customers will need to download the newer version in order to access their accounts.