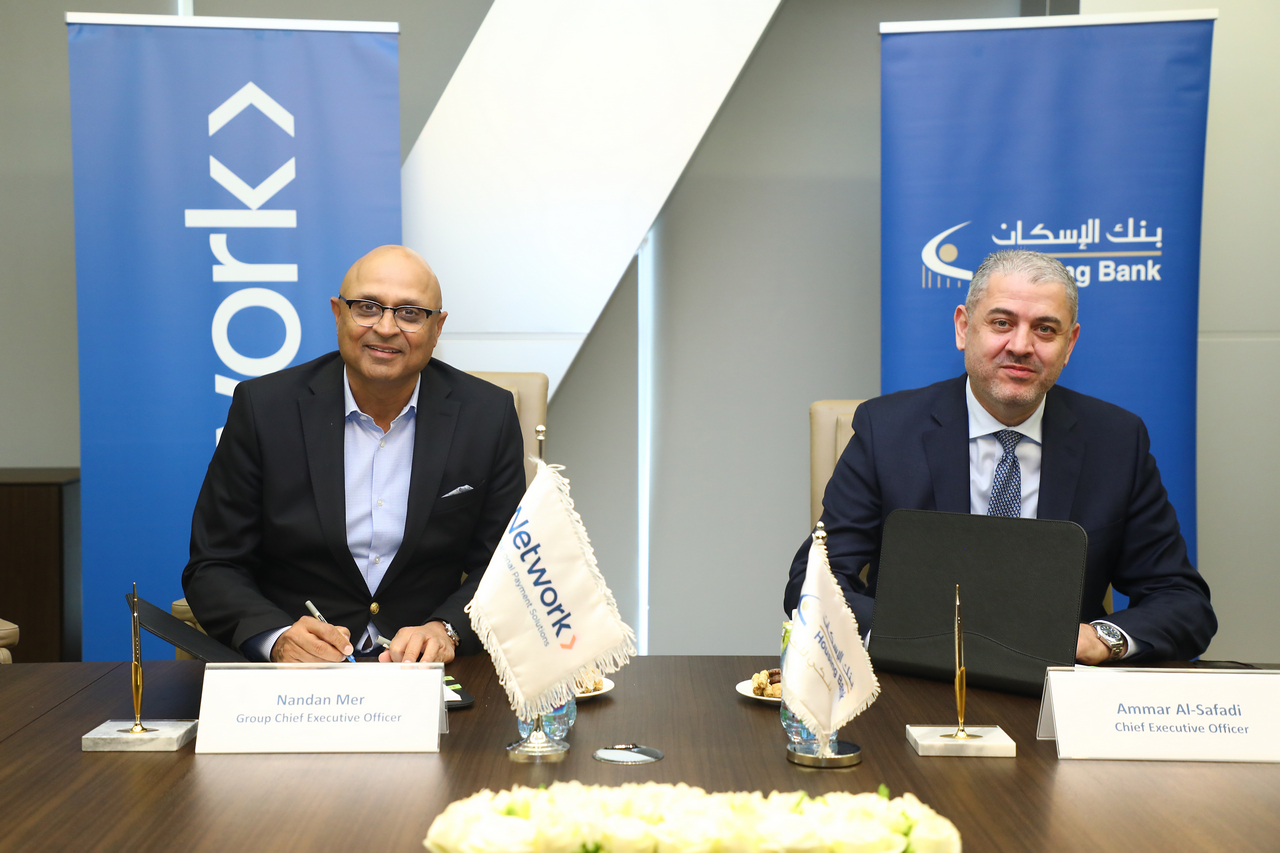 The Housing Bank- the most widespread bank in Jordan - recently signed a strategic, exclusive agreement with Network International Jordan as part of the Banks efforts in providing high-level digital products and services to its clients. Network International is the leading provider of digital trade in the Middle East and Africa, enabling the Bank to provide a variety of cards and digital payment products locally and internationally. This agreement will allow clients to get the highest possible privileges on payment cards that meet their needs and desires.
The agreement was signed by Ammar Al-Safadi, CEO of the Housing Bank and Network International CEO Nandan Mer, with the presence of senior management from both sides.
Under this agreement, The Housing Bank, in cooperation with Network International Jordan, will present a variety of digital cards and payment products, both locally and internationally, with the highest possible privileges in line with the needs and desires of clients.
Following the signing of the agreement, Al-Safadi said, "We look forward to working with Network International Jordan, which has extensive experience in the field of electronic payments, in providing innovative payment products and solutions to our credit card holders who are at the top of our priorities and interests. Through this partnership, we hope to enrich experiences of these customers and enhance the added value of our products."
For his part, Chief Executive Officer and Regional Director of the Levant region at Network International Jordan, Amjad Al-Sadeq, expressed his happiness in cooperating with one of the largest Jordanian banks in the Kingdom, enabling it to provide many unique and exceptional payment solutions locally and internationally to its customers. These payment solutions are characterized by their reliability and high standards of security, giving customers a smooth and fast banking experience, which contributes to increasing their satisfaction levels with the digital services and products offered by the Housing Bank."
The Housing Bank is one of the first banks in the Kingdom to keep up to date with the latest and most recent developments in the field of digital payment solutions, and has launched a range of quality digital services, including but not limited to; updating the ATM network by purchasing 185 modern and advanced ATMs, rolling out an updated Iskan Mobile application, launching the Easy Tawfeer automatic and instant savings service, and launching the Iskan V-Card which can be issued instantly through the Iskan Mobile or Iskan Online. In addition to many advanced services that keep up with the rapid changes of the digital age.