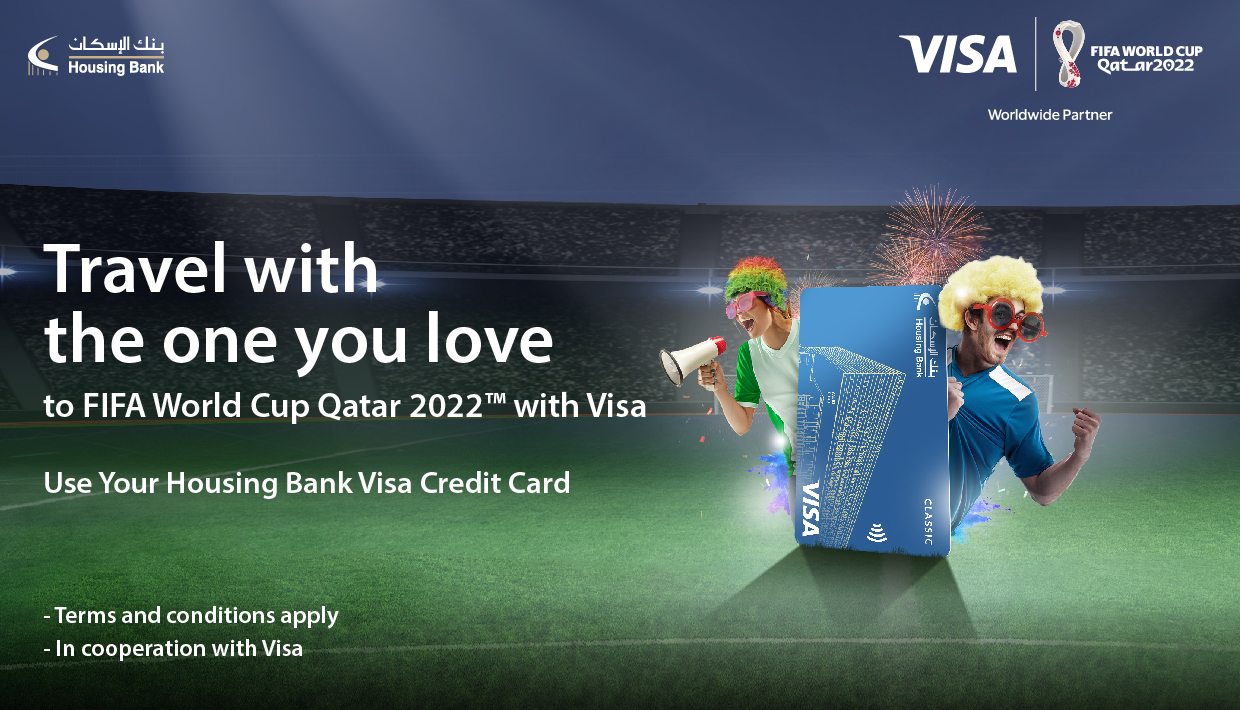 The Housing Bank – the most widespread bank in the Kingdom – in collaboration with Visa, launched a credit card campaign that offers clients an opportunity to win prizes, most notably a chance to attend the FIFA World Cup Qatar 2022™.
Through this campaign, the Housing Bank seeks to encourage current and new clients to issue and use Housing Bank Visa credit cards as an easy method to carry out purchases whether online or through local and international sales points. Housing Bank Visa credit cards provide added value benefits that meet clients' needs and requirements, which can be used at any participating stores.
The FIFA World Cup Qatar 2022™ campaign is valid from 04/07/2022 to 29/09/2022, where the Housing Bank clients will have the opportunity to win 8 prizes by making purchases through their Housing Bank Visa credit cards. Prizes include a travel package for two per trip, to attend selected FIFA World Cup Qatar 2022™ games of the first and 16th rounds as well as the quarter finals and finals which are the most important in the match.
The Housing Bank also launched the In -Kind prizes campaign, giving the clients the opportunity to win a smart TV when making purchases through the Housing Bank Visa credit cards.  The campaign period is from 04/07/2022 to 20/11/2022.
The Housing Bank credit cards are designed to give clients the financial flexibility and purchasing power that aligns with their needs anywhere, anytime. The advantage of these cards is that they are wide accepted local and worldwide, they have a 0% interest rate installment plan and the ability to withdraw cash with 100% of the limit value locally and globally, in addition to shopping online easily and securely. Exclusive travel offers are also available and clients will automatically be enrolled in the Iskan Coins program for rewards, making the most of the Iskan Gain program.