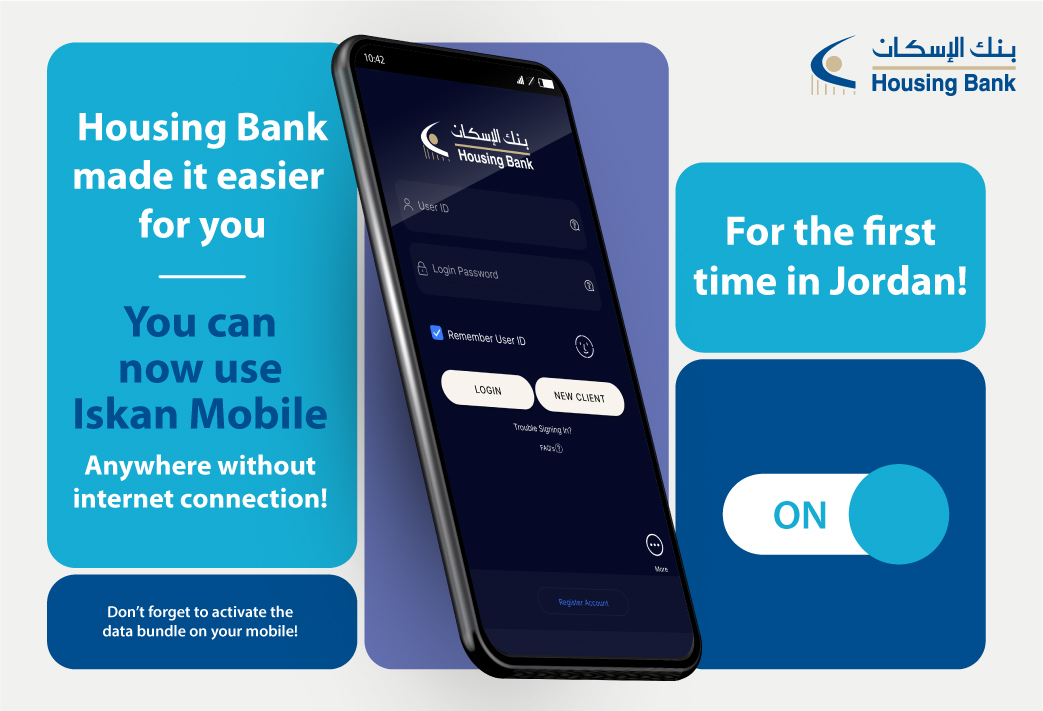 Housing Bank-the most widespread bank in Jordan- recently launched a new digital feature, ALWAYS On, for Iskan mobile, the first of its kind in the Jordanian banking industry. This feature allows customers to use the app easily without the need for an internet connection.
This feature comes as a reflection of the bank's digital transformation strategy that keeps up to date with the latest technological developments in the banking sector by automating its operations and providing digital services that meet the needs of customers in terms of saving time and effort.
This new feature allows customers, users of Iskan Mobile and subscribers of local internet services the ability to perform all services on the app, whether financial or non-financial, without the need to consume their internet packages. The user's mobile data icon must be turned on during the Iskan Mobile access for the service to be active without the need for Wi-Fi or data bundles.
To make customers' banking experience easier and safer, Iskan Mobile users will be able to always control and view their financials and non-financials with no interruptions.
Housing Bank launched its new website with its advanced and modern interactive design, as part of a series of updates adopted by the bank to keep up with digital transformation in the banking field. The new credit card and direct payment cards in all categories have been developed to include new contactless technology, in addition to continuously updating Iskan Mobile. More technological updated have been made by the bank such as the Iskan V-Card automatic and immediate issuing service that can be issued through Iskan Online and the previously launched digital self-service branch (Iskan engage), in addition to many advanced services and technologies that keep up with the rapid changes of the digital age.