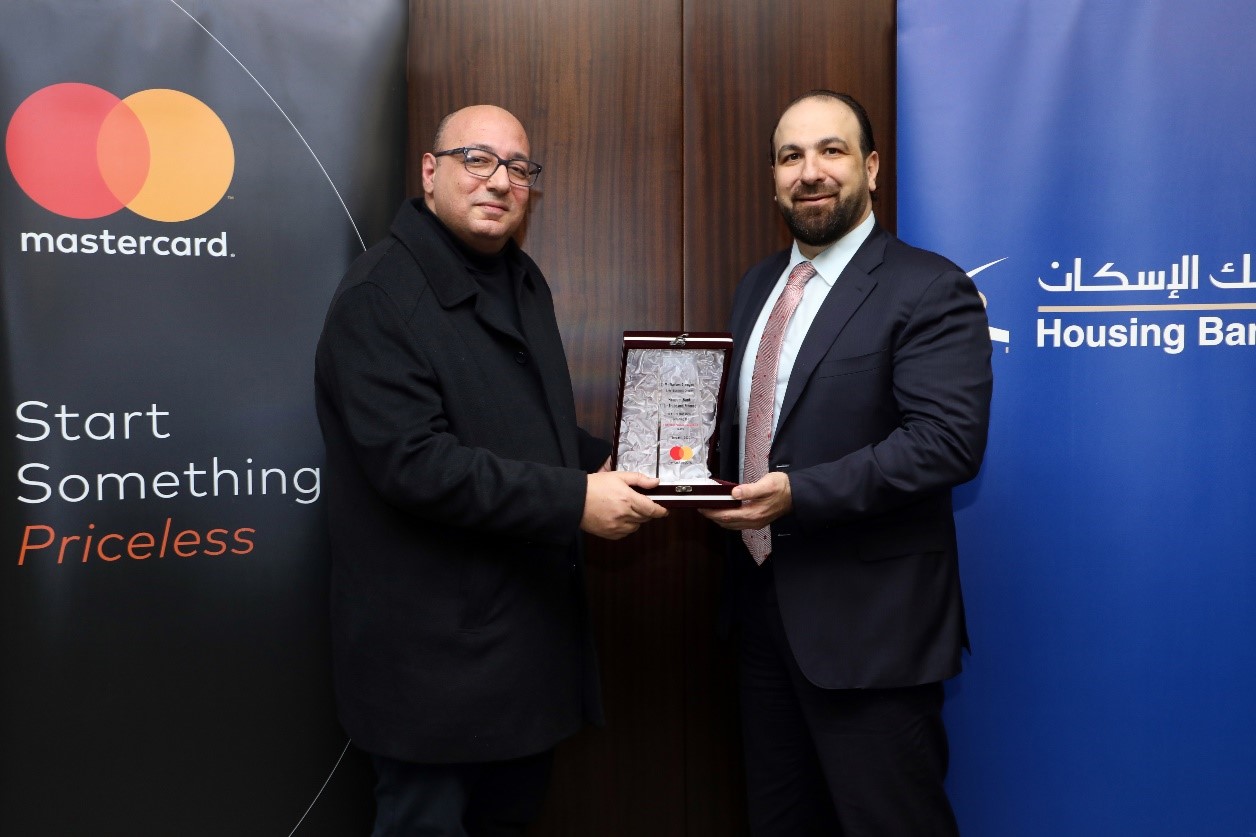 Continuing its plans to provide the latest and most up-to-date banking solutions and services to its customers, Housing Bank, the largest and most widespread bank in Jordan, recently launched the ISKAN Mastercard Virtual Prepaid Card, the first virtual Platinum Mastercard Prepaid product in the Middle East and Africa.
The Housing Bank ISKAN Mastercard Virtual Prepaid Card allows Housing Bank customers to make their purchases online using a prepaid balance with limits set to meet cardholders' needs. The card provides the highest levels of protection and safety, offering an online shopping purchase protection service that sends a one-time password (OTP) to the customer's registered phone number when using the card on websites included in the service.
The card is issued instantly when customers complete an application form on the ISKAN online system, and money can be transferred to the card without visiting a Housing Bank branch.
"As a banking pioneer in Jordan, Housing Bank is constantly keeping up with the latest developments in the banking industry, which is in line with its goal to provide rich, practical, safe, and reliable banking experiences to its clients," said Vasken Ajemian, Housing Bank's Chief Banking Officer. "The first of its kind in the Middle East and Africa, the Housing Bank ISKAN Mastercard Virtual Prepaid Card is considered a valuable addition to our cards portfolio, offering cardholders the purchasing flexibility they need and the highest levels of safety and protection. Housing Bank is keen to offer a wide segment of its customers more opportunities to experience the electronic payment solutions it provides to support their lifestyles and meet their various needs," Ajemian added.
Ramzy Al Amary, Cluster Head, Levant, Mastercard, said: "Prepaid products are becoming increasingly popular due to the vast number of benefits they carry, including simplifying the overall payment experience and offering cardholders better control over their spending and budgeting. We are delighted to collaborate with our partner, Housing Bank, to launch the ISKAN Mastercard Virtual Prepaid Card in Jordan. This launch underpins our commitment to cater to the needs of local markets and demonstrates our dedication to fostering payments innovation throughout the region."
The Housing Bank ISKAN Mastercard Virtual Prepaid Card offers cardholders all the benefits of Platinum Mastercard products, including Schengen-approved medical insurance, Mastercard Buy 1 Get 1 Free offers, and discounts at online travel company Cleartrip and on serviced apartments.