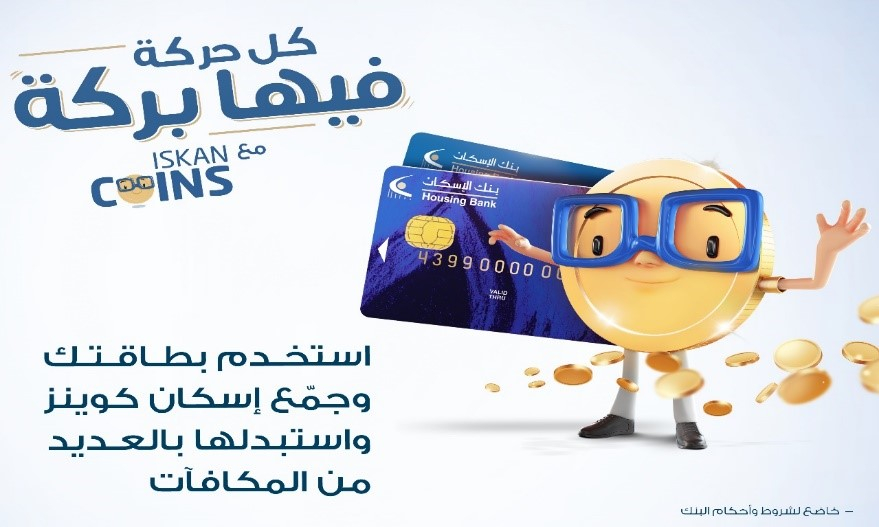 The Housing Bank has announced that it has improved its Iskan Coins loyalty and card rewards program to include holders of the bank's branded debit and credit cards, a move that is in line with the bank's vision to transform the customer experience even further.
 Now, Housing Bank's customers have the opportunity to consolidate their Iskan Coins on their existing debit and credit cards. All Housing Bank credit and debit cardholders are automatically enrolled in the program, accumulating Iskan Coins each time they use their Visa and MasterCard credit and debit cards for any local or international purchases, either directly through points of sale or online.
 Iskan Coins is the local banking marketplace's most generous rewards program, offering benefits to Housing Bank debit and credit cardholders that redefine consumer expectations through each transaction they make, consistently giving them innovative services and even more value from their rewards on each purchase.
 The Housing Bank is a leader among the few local banks that provide the option of consolidating points on debit cards. Every time a client uses their credit or debit card to pay for purchases, they accumulate Iskan Coins that can be redeemed on eligible categories such as gifts, coupons, cash, or a number of other options offered by the program's partners.
The Iskan Coins program is distinguished by the absence of a ceiling on the number of Iskan Coins that can be collected, which means that customers can benefit from better choices and more flexibility, with cards collecting higher point values than cash withdrawals.
 Housing Banks customers can redeem their Iskan Coins through the bank's website (https://iskancoins.hbtf.com.jo), the Iskan Mobile app, or by contacting the call center (Iskan 24/7) on +9626 5200400 or on toll-free number 080022111, and requesting Iskan Coins from the call center operator.