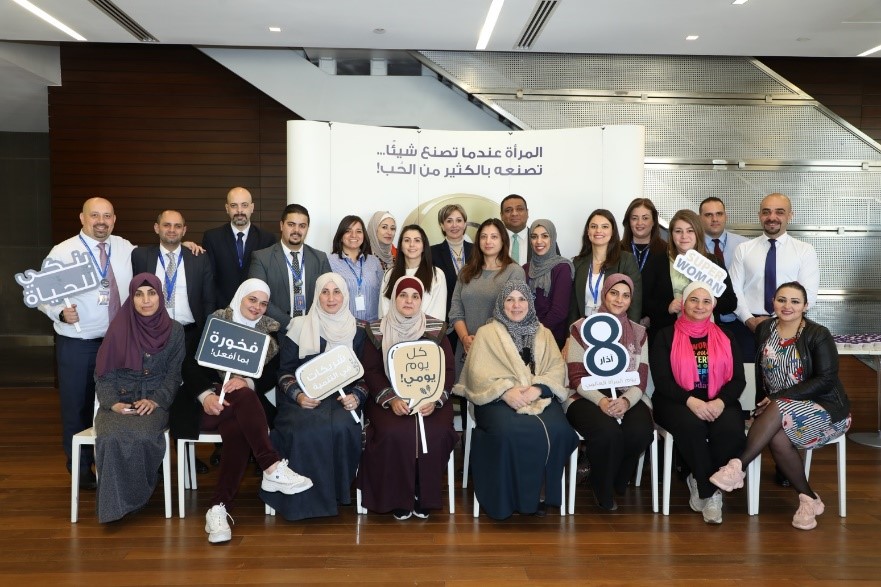 On the occasion of International Women's Day, and in line with the Bank's support for the vital and pioneering role of women in society, Housing Bank, the largest and most widespread bank in Jordan, has organized an event at its headquarters in Shmeisani, on Sunday 8 March 2020, in cooperation with a group of women who work from home through the application Bilforon.
Housing Bank provided a group of women who work from home with the opportunity to showcase their products at the Bank's cafeteria and promote them to employees who wish to purchase any of these homemade products. This initiative stems from the Bank's belief in the importance of supporting women wherever they are, as well as enhancing their leadership position and economic participation, and helping them to become effective members and inspiring leaders in the society.
The event received a positive reaction from the Bank's employees who expressed their admiration for the ability of these women to create high-quality homemade products using simple ingredients. The products, which ranged from homemade foods to desserts, received a great response from the employees, who believed in the necessity of joining efforts to support small home businesses run by women because of their positive impact on these women, and for society at large.
Bilforon is a startup company that uses a mobile application to promote and support the products of women working at home, as well as enable them to reach customers and connect with users looking for healthy and high-quality homemade food, and then deliver meals from the homes of these women, in an appropriate and healthy way, to the app users in their homes and companies.
Housing Bank's celebration of International Women's Day comes in appreciation of the achievements of Jordanian women on various levels, as well as their pioneering role in supporting the country's development process.