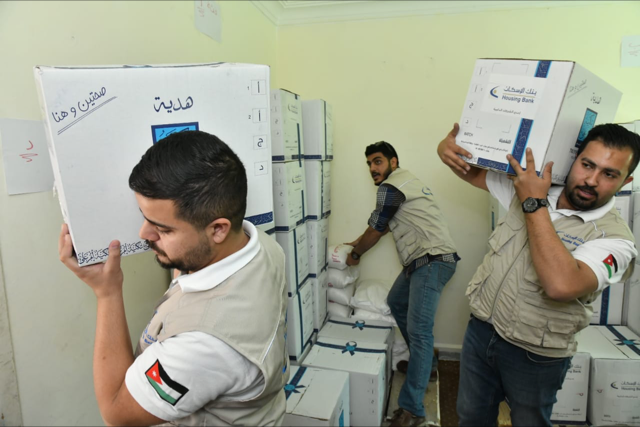 In recognition of the Housing Bank's strategic partnership with Tkiyet Um Ali and as an embodiment of the Bank's vision and belief in its corporate social responsibility, a number of the Bank's volunteer staff participated through the "Ata' Al Iskan" team and in cooperation with Tkiyet Um Ali in distributing charity packages to underprivileged families.
This comes as part of a series of activities that the Housing Bank is participating in during the holy month of Ramadan, which have included the its employees' volunteering to distribute charity packages to disadvantaged families, participation in food serving at the iftar tables held at the headquarters of the Tkiyet at the Mahatta, in addition to organsing the "Al Rahman Banquets" at the security sites of the Mahatta that form part of the Traffic Department.
The Housing Bank's support for Tkiyet Um Ali demonstrates the Bank's keen interest in supporting community-based programs, events and activities within the Bank's annual integrated initiatives program and as part of its altruistic and participatory corporate social responsibility strategy.
The Housing Bank annually carries out a series of charitable and humanitarian initiatives aimed at making a qualitative shift and a positive, sustainable change in the lives of underprivileged families and individuals across the Kingdom.