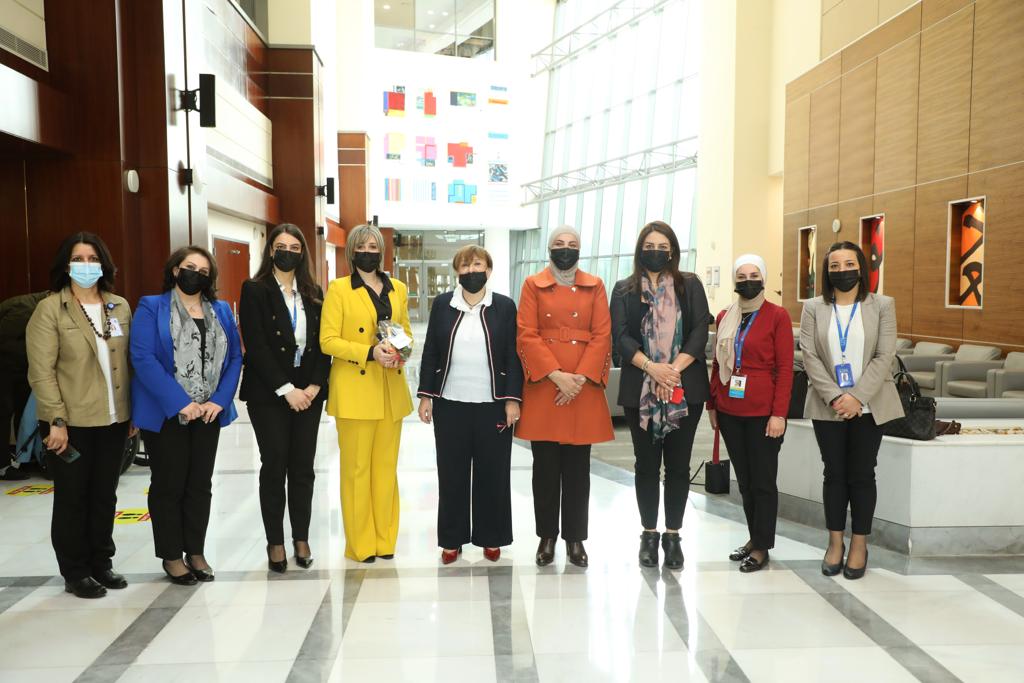 The Housing Bank visited a number of women receiving treatment at the King Hussein Cancer Center on Mother's Day, in line with its corporate social responsibility strategy. This is part of the Adult Patient Support Program aimed at providing patients with moral and psychological support during the treatment period.
Visiting more than 30 women at the center, representing the Housing Bank was Chief Operating Officer, Ms. Ibtissam Alayoubi and Executive Manager of Marketing and Corporate Communications Ms. Ghadeer Barrishi, in addition to the King Hussein Cancer Foundation team, who organized the visit.
Ms. Alayoubi stressed the Housing Bank's appreciation and pride in all Jordanian mothers and their valuable roles in serving society, saying, "Celebrating Mother's Day with the women at the King Hussein Cancer Center to lift up their spirits during the treatment journey is in our interest, and a reflection of our admiration towards their determination in their fight against cancer."
According to Alayoubi, this visit is part of the extended strategic partnership between The Housing Bank and the King Hussein Cancer Foundation, where the Bank seeks to constantly support the Foundation in achieving its goals and providing the best holistic treatment for cancer patients in Jordan and the Middle East.
The Director General of the King Hussein Cancer Foundation, Mrs. Nisreen Qatamish, thanked the Housing Bank for its kind gesture in supporting patients and lifting up their spirits, noting that this initiative is an extension of a strategic partnership in which the bank continues to support the Foundation to achieve its goal of providing comprehensive healthcare on par with international standards for the largest number of cancer patients.
The Housing Bank has had a strategic cooperation agreement with the King Hussein Cancer Foundation for several years, and continuously sponsored, supported, and participated in the foundation's various programs. This year's partnership included the Bank's support for the Foundation in implementing a range of its programs, most notably the University Fund Program for King Hussein Cancer Center patients, the Adult Patient Support Program, the King Hussein Cancer Foundation Award for Media Professionals, the annual Breast Cancer Awareness Campaign, in addition to the SIWAR volunteer program.