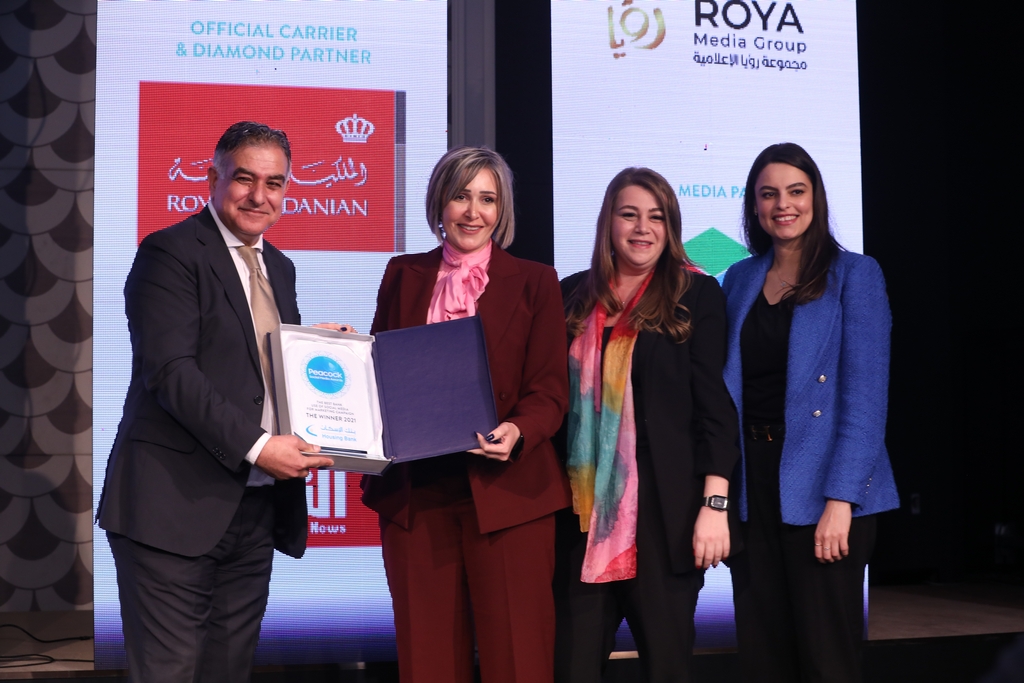 The Housing Bank- the most widespread bank in Jordan- won two Peacock Social Media Awards at the World Social Media Forum, the most influential and famous event in the Middle East, held at the St. Regis Hotel, Amman. The bank won the best media campaign of 2021 'Best Bank Use of Social Media for PR Campaign' which was launched as part of its celebration of Jordan's centennial and the second awards was for the best advertising campaign for 2021 'Best Bank Use of Social Media for Marketing Campaign' for the 'Your loan wins you cash' campaign.
The first of its kind in the region, the Peacock Social Media Award was launched to honor banks, companies, journalists, and social media influencers who use social media platforms as part of their creative marketing plans that communicate with the public through innovative content.
The Executive manager of marketing and corporate communications at the Housing Bank, Ghadeer Barrishi, received the awards at the closing ceremony of the forum in which 300 elite media and marketing professionals and influencers participated from Jordan and abroad.
The bank expressed its pride in receiving these two awards, which confirms its continued success over the past years and consolidates its leading position through creative and innovative communication on social media platforms with its existing and potential customers in supporting their ambitions and achieving their dreams.
It is noteworthy that the Best Advertising Campaign Award for 2021 was for the bank's loan prizes campaign, as a continuation of the bank's distinguished approach in launching innovative and pioneered banking services and products. This is also a confirmation that the bank's customers are the main pillar of their work making sure to meet customer needs and improve their banking experience.
The Best Media Campaign Award was launched as part of the bank's celebration of Jordan's centennial using augmented reality technology. Shedding light on Jordan's glory and civilization as well as its history which is full of achievements, sacrifice and determination, that united Jordanians and their leadership to continue the 'From the past..to the present.. preparing for the future' path. This was well received by citizens and customers, emphasizing the Housing Bank's distinguished societal role, and its pride in Jordan's path and achievements.
In the presence of major marketing and public relations companies, media personalities and social media influencers, The World Social Media Forum, held under the title 'Rebuilding social media marketing for better human engagement' discussed new trends in content creation in tune with the results of the COVID-19 pandemic to ensure public interaction and participation. During the forum, the best strategies implemented by the most successful international companies in marketing their products were also discussed.