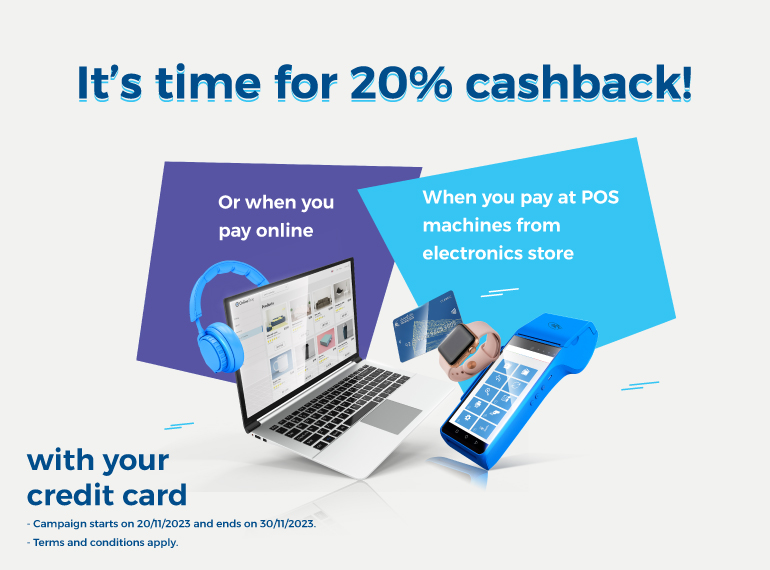 Buy everything you want and get a 20% cashback, up to 100 JODs, when you pay with your credit card online or at POS machines from any electronics store.
Terms and Conditions:


1- Customers who hold Visa credit cards of all types will be able to receive cashback for shopping using their credit card through POS machines from any electronics stores or online. Subject to specific conditions and terms, according to the classification provided by credit card companies for purchases made on Visa credit cards.



2- Cashback of 20% will be provided, up to 100 JODs, for purchases made online and/or at electronic stores through POS machines.



3- The minimum total purchase value must be 200 JODs during the campaign period, as per the campaign's specification.

4- The campaign includes POS machines; specifically, it includes the electronics sector/merchants and online purchases. And any transactions made through food delivery applications, or any orders placed through food and beverage websites and delivery services are excluded.

5- All local and international purchases made through POS machines from electronics stores or online are included.

6- Active credit cards are eligible, and the card status must be active when receiving the cashback.


7- The campaign includes the individual clients only.

8- Cashback will be provided within two weeks after the campaign ends to ensure merchants process all transactions.

9- The campaign starts on 20/11/2023 and ends on 30/11/2023.